VISION, MISSION & HISTORY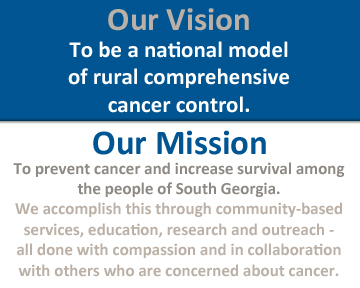 Our History
The Cancer Coalition of South Georgia began as a collaboration of diverse stakeholders with a singular purpose: to fight cancer in our region.  Its enduring partnerships and steadfast focus remain the foundation to achieving the Cancer Coalition's mission.
In 2000, hundreds of interested individuals across South Georgia began the collaborative effort, led by Phoebe Putney Memorial Hospital in Albany, John D. Archbold Memorial Hospital in Thomasville, South Georgia Medical Center in Valdosta and Tift Regional Medical Center in Tifton. The cancer centers were joined by local healthcare, business, religious, academic and community leaders as well as public health departments and others to create the Southwest Georgia Cancer Coalition.
In 2002, the Southwest Georgia Cancer Coalition incorporated as a 501(c)(3) organization and was designated by the state as a Regional Cancer Coalition of Georgia. Regional Cancer Coalitions were established in several areas of the state, and they continue to address cancer at the community level in collaboration with state agencies and local organizations.
Despite unpredictable state funding, the fledgling Cancer Coalition remained stable due to its committed board members, plus significant financial support from the region's four cancer centers. In addition, becoming the community partner of Emory University's Prevention Research Center provided expertise and funding with which the Cancer Coalition could begin conducting research locally.
In 2005, the first Chief Executive Officer was hired and within two years, a talented staff infrastructure was built. The staff expertise and ongoing dedication of the board allowed the organization to respond to opportunities for growth and diversified funding. In 2008, the Cancer Coalition expanded and focused its fundraising efforts. By 2010, the organization had established an impressive programmatic and research portfolio, particularly in the areas of cancer screening and early detection, reducing health-related disparities, prevention/risk reduction research, community-based outreach and education, education for healthcare professionals, and support for organizations serving local cancer patients.
In January 2012, the Southwest Georgia Cancer Coalition changed its name to the Cancer Coalition of South Georgia, a more accurate representation of its priority of fighting cancer via collaborative work ("Cancer Coalition") and of the broad area it serves ("South Georgia"). By this time, the organization was recognized as a statewide and national model for its innovative and effective programs and research, all successfully being implemented in one of the most impoverished regions of the country.
The unwavering support of the area's cancer centers has remained the most critical factor in allowing the Cancer Coalition to thrive, and the organization has consistently proven positive return on the centers' investment. In addition, the Cancer Coalition's work is respected among state legislators and the Governor's office, and it has remained in the state budget despite a struggling economy. These two sources of support – the cancer centers and the state of Georgia – as well as funding from Emory University and private donations, have allowed the organization to sustain key initiatives in the face of rapidly changing funding and healthcare environments.
As demonstrated by the above history, much has been accomplished; however, much remains to be done. The Board of Directors, staff members, partners and volunteers of the Cancer Coalition look forward to the time when cancer – and the suffering it brings – is merely past history in South Georgia. Everyone who is part of the Cancer Coalition remains steadfast in moving forward in the mission of "Fighting Cancer … Right Here, Right Now."