History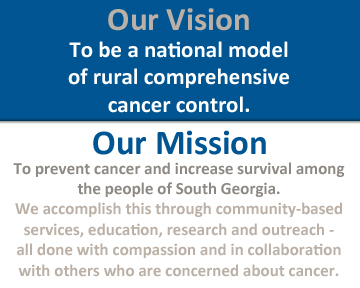 In 2000, the Governor of the State of Georgia made a landmark commitment to provide funding to aggressively fight cancer across the state. Much of Georgia's tobacco settlement funding was to be dedicated to developing a strong and effective statewide system of cancer control. The announcement fired the imaginations of people throughout the state, including those in rural southwest Georgia.
Interested individuals in our region quickly came together to discuss the needs of our area, the opportunity to reduce suffering from cancer, and the opportunity to capture desperately needed resources to better prevent, find, and treat cancer. By late 2001, a group of health care providers, business executives, public health officials and religious leaders committed to working together. They pledged personal and organizational resources to create the Southwest Georgia Cancer Coalition.
From its beginning, the Southwest Georgia Cancer Coalition has been open and inclusive. The early leaders donated countless hours and engaged local citizens, community and spiritual leaders, health care institutions, academic institutions, and area businesses. Several public forums were held and numerous partnerships formed. In 2002, the Southwest Georgia Cancer Coalition was awarded a $200,000 planning grant from the Georgia Cancer Coalition--one of eight proposals funded from 15 competitive applicants. Southwest Georgia Cancer Coalition continued to hold open forums with large groups of health, social, spiritual, civic, and business leaders as well as cancer survivors, to inform them about planning and implementing the proposed work.
It was determined that our regional coalition would cover 33 counties, most of which were designated as rural. The population was over 700,000 with approximately 45% African Americans. Four cancer centers were located in the region, which included portions of five public health districts.
To encourage participation from all stakeholders and to more fully represent the diversity of the region, ten workgroups were created. Local organizations provided staff leadership and a hired consultant helped to facilitate the work. Each Workgroup closely examined a particular facet related to cancer control. The Workgroup areas of concentration were as follows:
Access to Services
Business Development and Assistance
Faith Community
Hospital-Based Oncology Services
Prevention
Research and Evaluation
Oncology and Primary Care
Organizational Structure
Survivor and Patient Support
Workforce Development

Workgroup members, up to 12 per group, dedicated six or more hours per month for six months. The Southwest Georgia Cancer Coalition coordinated the discussions and collected the input of the more than 150 participants. In addition to the workgroups, other individuals focused on developing partnerships with academic institutions within and outside of the region. For example, Dr. James Hotz, a key leader since the organization's inception, initiated a crucial partnership with Rollins School of Public Health at Emory University, a relationship that immediately led to opportunities for research and educational collaborations.
In early 2003, the Southwest Georgia Cancer Coalition incorporated as a 501(c)(3) organization. Phoebe Putney Memorial Hospital in Albany served as the initial organizational home and provided substantial resources, including financial staff support and office space.
Also in 2003, the Southwest Georgia Cancer Coalition, along with five other regions, was designated as a "Regional Program of Excellence" - now called a "Regional Cancer Coalition of Georgia". Regional Cancer Coalitions of Georgia were established, and continue, to address cancer at the community level in collaboration with state agencies and other local and federal organizations.
In January 2010, the Cancer Coalition's service area was changed to 31 counties to better reflect the communities served by the organization.
In January 2012, the Southwest Georgia Cancer Coalition changed its name to the Cancer Coalition of South Georgia, a more accurate representation of the area served by our programs. Atkinson County was also added to our service area at this time. Please see Overview for a map of the 32 counties served by the Cancer Coalition of South Georgia.
In large part due to the efforts of our local legislators and the support of the Governor, the Cancer Coalition of South Georgia continues to receive state funds for specific programs and projects. In addition, the unwavering support of our local cancer centers and other organizations has kept our Coalition moving forward.