Cancer Care Grants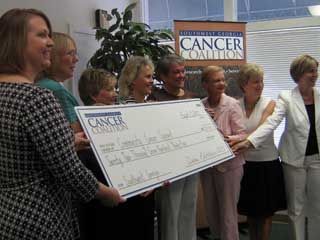 For many local cancer patients, there are significant out-of-pocket costs associated with their care. High gas prices and long rural distances make travel to treatment expensive, and sometimes the cost of medicines or nutritional supplements may keep patients from getting the care they need.
From 2004 - 2007, the Southwest Georgia Cancer Coalition, as it was formerly known, held an annual fundraising event called the RiverFront Run. Net proceeds from the Riverfront Runs allowed the Cancer Coalition to fund local nonprofit organizations and community groups that directly support cancer patients and their families. Since 2008, these grants have been provided utilizing funds from corporate sponsorships, individual donations and/or other fundraising events. Past recipients of these Cancer Care Grants are listed below.
Our grants assist with patient needs across the region such as wigs, lodging, medicine, transportation, food and emotional support. Since 2006, the Coalition has awarded more than $156,000 in grants to local organizations that help cancer patients and their families.
Past recipients include:
Please note that our Cancer Coalition is unable to provide individual patient services or assistance, or individual financial aid. Cancer Care Grants are given to local organizations that meet the qualifications listed in the grant application, not to individual patients or families. We are happy to refer individuals to our partner organizations that do provide patient and family services and financial assistance.