Regional Tissue Bank
Tumor, Tissue and Serum Biorepository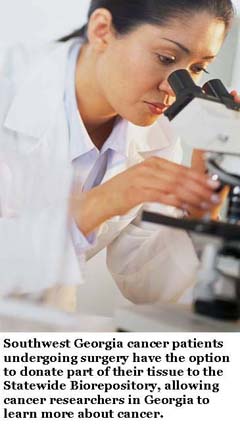 Southwest Georgians undergoing cancer treatment have a unique opportunity to help fight the disease.
Through a partnership with the Georgia Health Sciences University/Medical College of Georgia, the Cancer Coalition of South Georgia and Phoebe Putney Memorial Hospital in Albany, cancer patients undergoing surgery at Phoebe can consent to donate a small part of their cancerous tissue to the statewide Tissue Bank. John D. Archbold Memorial Hospital in Thomasville served as a collection site from 2006 to 2009.
Tissue collected at the site is sent to the central statewide biorepository housed at the Georgia Health Sciences University in Augusta. The value of regional collection sites is to have samples from people in our area available for further research that can ultimately lead to improved cancer care in south Georgia and across the state.
There is no cost to cancer patients who wish to participate in this study. After a tumor is removed from a patient during surgery, leftover tissue that would otherwise be discarded is sent to the statewide biorepository to use for research.
The currently active and former collection site in Albany and Thomasville, respectively strengthen the statewide program to benefit all Georgians and contribute to significant advances in cancer research.